Happy news: Leo has been adopted.
Leo is a 10 week old kitten. He and his siblings were born under a garden shed.
The kittens have been raised by our fosterers and will be ready for their forever homes at the end of November.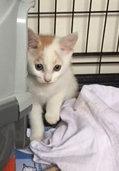 Leo is playful and inquisitive. He loves head nuzzles from people he trusts.
Leo has been vet checked and vaccinated.