Daisy came into our care recently after her owner died. She was 11 years old, an unspayed house cat.
Daisy had a rough start to her new life in the care of her fosterer Emma. At first, Daisy just hid and would only come out at night to feed. Gradually, she ventured out but was still very scared. After about three weeks, Daisy appeared to have a very intense period of being in heat. We made an appointment at the vets for her to be spayed.
During the pre-op check, she was diagnosed with pyometra. Pyometra is an infection in the uterus and is considered a serious and life threatening condition that must be treated quickly and aggressively. Pyometra is a secondary infection that occurs because of hormonal changes in the female's reproductive tract.
Marina the vet said she must have been in a lot of pain for a long time. She had never seen such a bad case. Daisy would have had only days to live if this hadn't been found just in time.
Daisy has now made a full recovery thanks to Marina and the after care she received. Daisy now has a forever home with her fosterers who decided to keep her permanently. Daisy is now a happy, cuddly cat who loves her new life.
We are very grateful to Vets4Pets in Pets at Home Hertford for the excellent treatment Daisy received.
We are also grateful to Support Adoption for Pets from whom we receive regular donations as we are in partnership with Pets at Home. Without their financial support we would be unable to afford to treat cats like Daisy.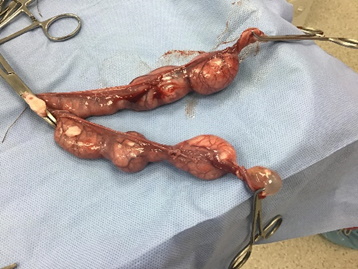 Please spay your cat, even if she is a house cat. It could save her life.