HAPPY NEWS: JERRY HAS BEEN ADOPTED.
Jerry is a wonderful young Bengal, 1 1/2 years old. He adores human company. He likes nothing better than following his fosterer around the house, chattering away in his own inimitable way.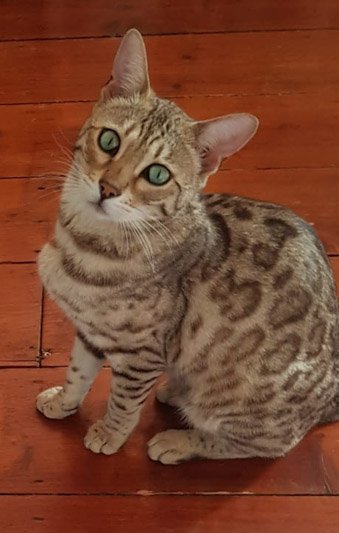 Jerry would be a lovely companion for a family that can give him lots of time. He likes to sit next to his human all day long, but is not a cuddly lap cat. He is intelligent and vocal, and might be suitable for clicker training.
Jerry loves to watch the world go by from the window. He even likes to watch the computer printer whirring away ( see video.)
Jerry would like a quiet home with adults who can keep him company. He would not be suited to a house with children or a lot of noise. He needs a house with a garden so that he can expend his Bengal energy.
Jerry has been neutered, vaccinated and chipped.