HAPPY NEWS: MISSY HAS BEEN ADOPTED.
Missy is a very affectionate and gentle 12 year old Ragdoll. She came to us as she was struggling in her previous home due to the presence of young children.
Missy has now really come out of her shell with her fosterer. Missy would like a quiet and calm home in which she can relax and have lots of snuggles. She absolutely loves being brushed, and must be groomed every night to keep her long coat in good condition.

Missy has been diagnosed with a hyperactive thyroid – a very manageable condition – but she will require medication and a special diet for the rest of her life.
Due to these additional needs, and in order to help with placing Missy in a new forever home, Cats Whiskers Rescue will be covering the ongoing cost of the medication & food.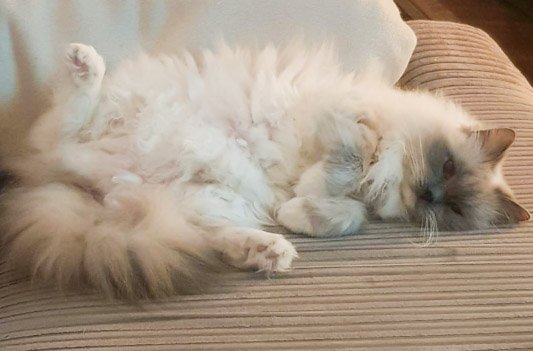 If you would like to donate to help towards the cost of this commitment, you can do so by using the bank details below. Alternatively, you can click the link to take you through to our PayPal.

If you are interested in adopting Missy, please download an application form and email info@catswhiskersrescue.com. Missy would not be suitable for a home with children, but will thrive in a loving home with a peaceful environment.

For Bank Payments:Account name: The Cats Whiskers RescueAccount number: 18061176Sort code: 60-11-11
For PayPal:https://www.paypal.com/donate/?token=RNTjHGGsIFO_mp-SAL9nNRwQvwxEGjHFBmBvaWoyHXRHvZZifHSp3biD4Krv63JDnvoUjGiMd-yBDgye&locale.x=US
If you wish to Gift Aid your donation, please text the amount donated and your full name and address to Diane on 07878 803137.
Application Form:http://catswhiskersrescue.com/downloads/AdoptionForm.docx