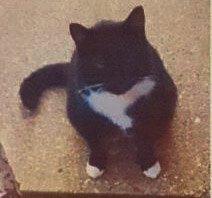 Topcat has been missing since June 2021, but has been spotted in Cock Lane, Hoddesdon and Pembridge Lane, Broxbourne.
He has a white patch on his chest shaped like a lightning bolt, four white paws and white whiskers. He has been microchipped.
Please call 07399 636 787 or 07730 666 464, or contact Cats Whiskers Rescue, if you have any information about Topcat.