HAPPY NEWS: UBIK HAS BEEN ADOPTED.
Ubik is an extraordinarily relaxed, friendly and affectionate cat who melts the hearts of all who meet him. He adores human company, cuddles, being carried around like a baby (!), jumping up on and sitting on your shoulder and will be by your side or preferably on your lap almost all day. He barely ever stops purring, loves sunbathing and hanging out in the garden too.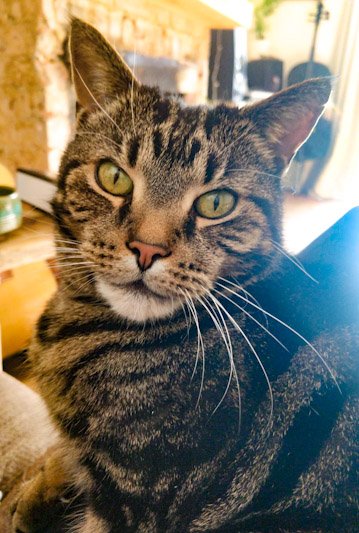 Ubik is highly intelligent, and even sits on command for treats. He will make the perfect constant companion for someone who can give him the attention and affection he so loves!

Ubik is 10 years old and weighs just under 6kg. As mentioned, he does like to jump on your shoulder, so it is worth bearing his weight in mind.
If you would like more information about Ubik, please contact our adoption co-ordinator Ros Pegorini: rosannapegorini@hotmail.com
Our adoption form can be found on our website: https://www.catswhiskersrescue.com/adopting-a-cat/