WE ARE NO LONGER TAKING ENQUIRIES FOR THE KITTENS.
We have three 8 week old kittens looking for homes. From the top: female Scrabble, male Domino ( white forehead), and female Monopoly ( mostly black ) at the bottom.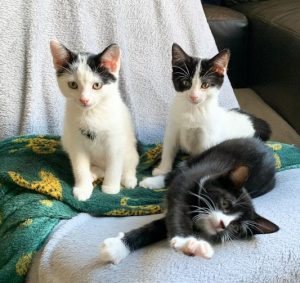 They are happy, playful kittens who would like families that can give them lots of attention.
The new families must have them spayed or neutered at the appropriate time.
If you would like more information about the kittens, please contact our adoption coordinator Ros Pegorini: rosannapegorini@hotmail.com