HAPPY NEWS: MILLIE HAS BEEN ADOPTED.
Millie is a tiny, dainty young cat, less than 18 months old.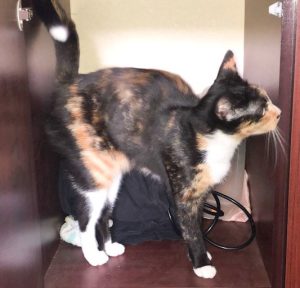 Millie is like a delicate little fairy. She loves head nuzzles and having company, but is startled by loud noises. She can be shy and timid, but quickly adores people she knows.
Millie would be happiest in a quiet home with no other pets or young children. She would like a quiet and peaceful home.
If you would like more information about Millie, please contact our adoption coordinator Ros Pegorini: rosannapegorini@hotmail.com