This content has been archived. It may no longer be relevant
HAPPY NEWS: BUSTER HAS BEEN ADOPTED
Buster is a very affectionate 7 year old cat. He loves snuggling up on your chest and giving lots of kisses.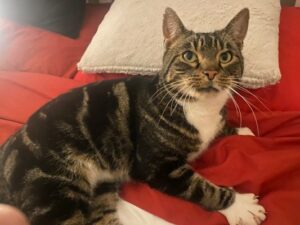 Buster was a very much loved pet, but had to be given up as a family member was allergic.
Buster is a little shy at first but soon comes out with encouragement, and enjoys chasing a feather and playing on a scratch post. He needs a quiet home with a family that can give him lots and lots and lots of cuddles.
If you would like more information about Buster, please contact our adoption coordinator Ros Pegorini: rosannapegorini@hotmail.com