If you cannot have a cat in your home, could you sponsor a cat? We have several cats in our care who may never be rehomed due to old age or ill-health. They will be cared for life by us, but we need your help to pay for vets' bills and food.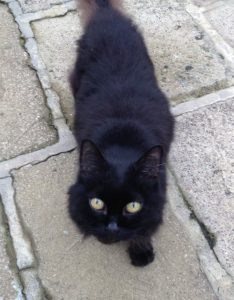 Bonnie
When we took in Bonnie her overactive thyroid was not under control, she wasn't putting on weight and she also had a very deep ulcer in her eye.  Bonnie's thyroid problem is now being controlled with liquid medication and she is gaining weight at long last. More serious though was the ulcer in her eye. We just had to wait and see if it would heal itself. After 2 months of antibiotic eye drops it finally started to
heal.  Bonnie is now fighting fit again and has settled in well. Bonnie has to have regular blood tests to ensure her thyroid is being kept under control and also to check her liver and kidneys.
All this treatment comes at a cost which is why Bonnie is our sponsor cat. Her medication costs about £30 a month and every 3 months the consult and blood tests come to about £100.
Update: Sadly Bonnie has passed away after a sudden illness. We are all very  upset as she had been part of our lives for so long and we had worked hard to give her a happy, healthy life.
Jack and Jill
Last year we took in Jack and Jill. They are two elderly black cats, brother and sister, who are devoted to each other. Alas, their owner had to take up residence in a care home, leaving her two precious moggies behind.
Due to their age we thought it unlikely that we would be able to rehome them, so we were prepared to give them shelter for their rest of their lives.
However, a wonderful lady called Sandra contacted us. She had recently lost her own elderly cat and was looking specifically to adopt another extra-needs cat. She fell in love with Jack and Jill, and now all three are happily living together.
Here are some of the messages we've received from Sandra:
"Jack and Jill have settled in well. Jack is very  confident and on my lap all the time for strokes and cuddles. "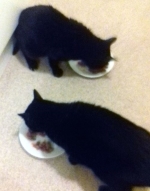 "Jack is so funny as he headbutted Jill out the way so that he could get most of the strokes. I ended up picking up Jill and both were on my lap for hours being stroked and cuddled. They are purring so much, they are beautiful."
"…here are my beautiful cats who met me at the door tonight for cuddles and strokes. I wish people could see how much love elderly cats can give."
Cats Whiskers Rescue is appealing to kind folk out there to consider long-term fostering, sponsoring, or adopting an extra-needs or elderly cat.
If you wish to help, please contact our helpline 07878 803137.