HAPPY NEWS: MOLLY HAS BEEN ADOPTED.
Molly is a pretty 7 year old cat. She is quite shy and timid, but enjoys nuzzles with people she knows. Chasing a laser light is one of her favourite games.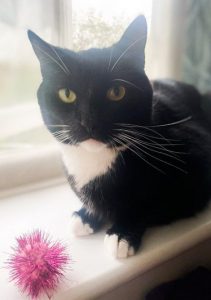 Molly didn't have the happiest start in life, but with lots of care and attention from our fosterer she has blossomed. Molly would like a quiet home with no other pets or children. She would like a family that can give her time to acclimatise in her new home, with gentle cuddles and lots of treats.
Could you give Molly a caring and nurturing forever home?
Please contact our adoption coordinator Ros Pegorini: rosannapegorini@hotmail.com