Puma is a beautiful young cat, approximately 2 to 3 years of age. He is a very affectionate, sociable cat who adores human company.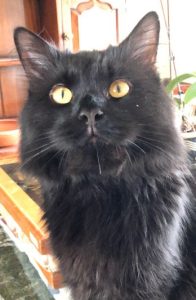 He is bright and inquisitive, and enjoys spending time on the windowsill, watching the world go by.
He would like a quiet family that can give him lots of cuddles. He would also like a home with a safe outdoor space for sunbathing. He would be happiest in a home with no young children.
If you would like more information about Puma, please contact our adoption coordinator Ros Pegorini: rosannapegorini@hotmail.com
Our adoption form can be found on our website:
Adopting a Cat