Tigger is a very cuddly 9 year old cat. He absolutely loves his snuggles, and follows his fosterer around the house. He is the perfect companion.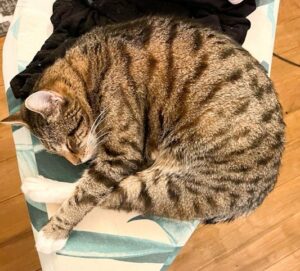 Tigger is hyperthyroid and needs one tablet a day. Don't worry! He licks the tablet out of his fosterer's hand. Tigger really is that easy to look after.
Please have a look at the adorable video on our website of Tigger enjoying his Licky paste and tablet.
P.S. Only Tigger needs a home. Fosterer's nephew not included.
If you would like more information about Tigger, please contact our adoption coordinator Ros Pegorini: rosannapegorini@hotmail.com