LUNA AND JESS HAVE BEEN ADOPTED.
Jess is the liveliest, most confident kitten ever. She is 12 weeks old.
She loves to play with a towel, and often wears herself out playing. She likes to play in her sister Luna's hiding box, and will often play with Luna. Jess particularly likes to climb over her fosterer and walk across her laptop.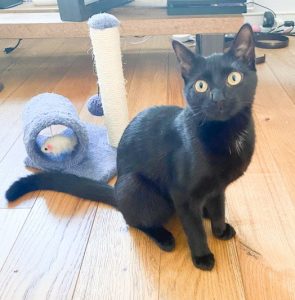 It would be lovely if Jess and her sister Luna could be homed together, but they could be homed separately.
If you would like more information about Jess, please contact our adoption coordinator Ros Pegorini: rosannapegorini@hotmail.com